Mandarin Interpreting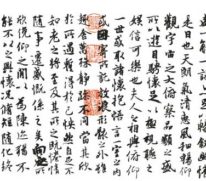 Skilled and reputable Melbourne-based Mandarin translators
At Language Australis, we know that having a skilled and qualified translator is crucial to the integrity and dependability of your business. No matter how well researched your project or how prepared you feel you are, the success of your delivery can come down to the skill and qualifications of your translator.
For interpreting both ways in English and Mandarin, we provide language specialists who are fluent in English and are native speakers in Mandarin. This ensures that the correct tone, style and specialised language can be used to provide the most accurate translations.
A brief Mandarin lesson
Mandarin is spoken and structured very differently to the English language.
A brief language lesson here: spoken Chinese is categorised into two main groups: Mandarin and Cantonese. Both are tonal languages, which means that the same written word may have a completely different meaning depending on the tone that is used. There are up to six different tones – the rising tone, the falling tone, the high tone etc.
In official settings, therefore, it is so important to know well ahead of time which Chinese language should be used for the target audience. Mandarin is spoken in mainland China, Singapore, Taiwan and Malaysia. Cantonese is spoken in Hong Kong, Macau and the Guangdong province.
How Language Australis's Mandarin language interpreters can help
Interpreting the Mandarin language can have obstacles that need to be crossed in order to provide an authentic rendition. Our Mandarin interpreters have a comprehensive understanding of the correct etiquette and courteous body language that need to be used for social and business meetings. We provide interpreters who combine these skills in their work, professionally and naturally.
We offer the services of qualified, reliable and trained Mandarin language interpreters across Australia. All of the interpreters from Language Australis are professionals who have knowledge in an array of topics such as legal, medical, government and business while following the interpreters' code of ethics. This way you can rest assured that your presentation runs smoothly.
Our interpreters treat every assignment as an individual case. We will always provide you with a Mandarin interpreter who has the appropriate skills and background knowledge for your project.
The sheer number of professional interpreters at Language Australis who are accredited by the National Accreditation Authority for Translators and Interpreters (NAATI) means that we can assist you in a range of interpreting needs for any type of situation.
Other interpreting services
Whisper interpreting or chuchotage is a form of interpreting that is often performed in formal settings, such as courtrooms, where the specialist sits next to the listener and forwards on the information. This type of interpreting can be challenging as it requires fast-paced interpreting and a high level of accuracy. With our pool of skilled Mandarin interpreters, you can be confident that your interpreting will be effectively executed.
Contacting us about our Mandarin language translators and interpreters
Do you have any questions? Would you like some advice? Would you like to get a quote, or book an appointment with one of our Mandarin language translators? Contact our office today. We're located in Malvern East, ensuring an accessible Mandarin language translator service to clients in Dandenong, Springvale and the greater Melbourne area.
Contact Language Australis to find out which Mandarin interpreter or Simplified Chinese translator is best suited to your needs.